August 17, 2006
May 09, 2006
#
If I can't misquote, it's not my revolution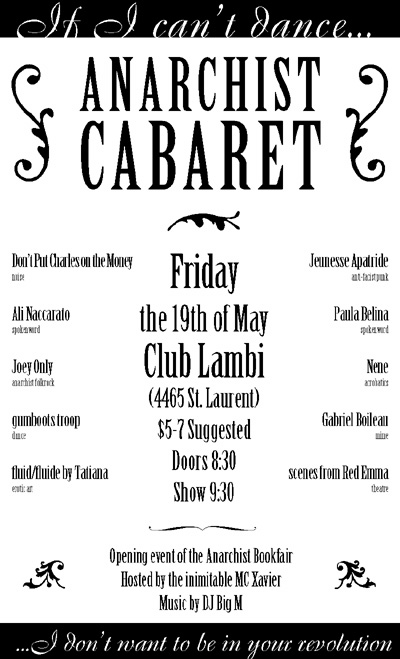 While working on the above poster for the Anarchist [Bookfair] Cabaret, I came across this bit of feminist errata. As it turns out, Emma Goldman never actually said the words most famously attributed to her: "If I can't dance, I don't want to be in your revolution". The link tells the story of how the version entered circulation.
I searched Emma's texts for the statement; it was nowhere to be found. But Jack was so pleased, the festival was so soon, Emma looked so lively printed in red and black on a variety of rich background colors, that I hadn't the heart to register an objection in the name of scholarship. After all, the apocrypha appeared on a mere gross or two of T-shirts, which surely could not require the same standards of accuracy as, say, book blurbs extracted from book reviews--and the sentiment expressed was pure Emma indeed.

But history (and fashion) exploded so quickly in those hungrily feminist days that the slogan on the original shirt-run was soon dispersed and copied and broadcast nationwide and abroad, underground and above, sometimes, absent a text to be checked against, changing along the way like a child's game of Telephone, until Jack's initial lighthearted liberties had taken wing as quotable lore and soared up into the realms of myth.

When all my shirts from the original batch had been given away to friends and my own worn to a rag, I decided to buy another. Only the new shirt, purchased in an uptown bookstore, sported a different picture of Emma--this time in a floppy hat--and a different version of the by now legendary legend, different still from the one I sometimes flaunt on a button. But, hey, if you can't wear what you like, who wants to be in your revolution?
April 04, 2006
October 18, 2005
May 23, 2005
May 14, 2005
March 30, 2005
November 10, 2004
October 07, 2004
September 21, 2004
July 12, 2004
July 06, 2004
March 21, 2004
February 26, 2004
February 13, 2004
January 15, 2004
December 31, 2003
December 23, 2003
December 01, 2003
November 18, 2003
August 31, 2003
July 01, 2003
June 12, 2003
April 13, 2003
March 11, 2003
March 10, 2003
March 04, 2003
February 23, 2003
February 19, 2003
February 16, 2003
February 12, 2003
January 31, 2003
January 26, 2003
January 19, 2003
January 14, 2003
January 10, 2003
December 15, 2002
December 12, 2002
December 10, 2002
December 09, 2002
December 08, 2002
November 28, 2002
November 25, 2002
November 11, 2002
November 09, 2002
November 02, 2002
October 31, 2002
October 14, 2002
October 07, 2002
October 06, 2002
October 05, 2002
October 03, 2002
September 29, 2002
September 24, 2002
April 25, 2002
April 15, 2002
March 02, 2002
February 28, 2002
January 29, 2002
September 07, 2001
September 01, 2001
August 29, 2001
August 28, 2001
August 26, 2001
August 12, 2001
July 28, 2001
July 24, 2001
July 22, 2001
June 08, 2001
May 25, 2001
May 05, 2001
April 23, 2001
April 18, 2001
April 09, 2001
March 27, 2001
March 09, 2001
February 13, 2001
February 12, 2001
February 07, 2001