April 06, 2003
Basra and Water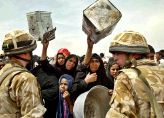 AFP: "A US military spokesman said Saturday that water supplies to the southern Iraqi city of Basra, broken off in the fighting, were now almost back to normal."
SJ Mercury: "Many residents of this besieged city of 1.3 million people joyously watched the Challenger tanks roll into their neighborhoods, shouting "No Saddam" and flashing thumbs-up signs. Others looted stores and warehouses in the chaos."
Greenleft: "The need to get aid into Basra prompted a British military spokesperson on March 25 to designate it as a 'legitimate military target'."
icWales: "Will Slater, spokesman for the British Red Cross, said it was wrong to assume supplies would reach the needy now that coalition forces were further into Basra."
St. Louis Post-Dispatch: "Most of Iraq's water treatment plants no longer function or do so intermittently as a result of two decades of war, sanctions and a leader willing to sacrifice necessities for arms and political gain. Meanwhile, the flow of the lifeblood Euphrates is diminished by Turkish dams. And in southeastern Iraq, a vast swath of marshlands the size of Switzerland was turned into an environmental disaster when Saddam drained them to punish Shiite Muslim opponents."
Islamic Republic News Agency: "US and British warplanes have continously bombarded the Basra city, Iraq's second biggest city, since the outbreak of US-led war against Iraq some two weeks ago."
-->