April 06, 2003
Adventure? Excitement?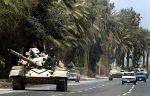 Back to Iraq: "We scrambled down the riverbank, and hit the bridge. Running in a crouch, we were in full view of the base, whose inhabitants had thoughtfully lighted the whole bridge like Yankee Stadium at night. We were running through the 'kill zone,' a patch of territory where it would be more than easy to pick off targets."
Guardian: "The Basra Sheraton, whose only guests are al-Jazeera journalists, received four direct hits this morning during a heavy artillery bombardment, according to the Qatar-based broadcaster."
Al Ahram: "As the war on Iraq enters its second week, the ruling National Democratic Party (NDP) finds itself torn between support for Egypt's long-term strategic relationship with the United States, and an increasingly anti-war mood on the street. The party's seemingly pro-American stance as the war began quickly became the target of harsh criticism. Public rage went as far as an attempt at vandalising the party's downtown headquarters, where protestors -- bearing large posters of late President Gamal Abdel-Nasser and Palestinian resistance leader Marwan El-Barghouthi -- gathered on the second day of the war."
Al Ahram: "Turkey's Kurdish south-eastern provinces are a long way from Istanbul or Ankara, where protestors continue to spill out onto the streets in anti-war demonstrations, but support for Turkish military presence in Iraq is strong. The towns and villages of the south- east are the Turkey that the European Union doesn't see. More than four years after the unilateral cease- fire that ended hostilities between the Kurdistan Workers Party (PKK) and the government, towns still maintain a heavy police presence, main roads are dotted with frequent military checkpoints and people are not inclined to talk to reporters or have their pictures taken."
-->