April 01, 2003
Aid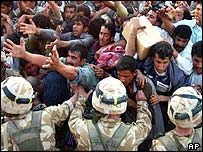 Reuters: "ICRC spokeswoman in Geneva Nada Doumani expressed concern that little was known about the humanitarian consequences of the war outside the key hotspots of Baghdad and Basra. 'Everyone is concentrating on Baghdad and Basra, but we are forgetting that Iraq is a huge country where we know nothing about the rest,' she said."
BBC: "'With the majority of Iraqis set to exhaust their food reserves by May, the agency plans to support a food distribution system capable of meeting the needs of the entire population,' he said."
Reuters and AFP: "Half of the people in the besieged southern Iraqi city of Basra lack water, the European Commission said yesterday. Providing water remains the single most important problem in terms of humanitarian assistance, said a spokesman outlining the EU executive's aid activities for Iraq. 'The most serious situation is in Basra, where half the people have no water,' Javier Menendez Bonilla, describing conditions for Basra's 1.2 million-strong population as 'worrying.'"
USA Today: "Unclean water may kill more Iraqis during the war than bombs and bullets, United Nations officials warn. [...] Iraqis dump 500,000 tons of raw sewage a day into the Tigris, Euphrates and key tributaries. Loss of power and damage to water treatment plants is linked to outbreaks of cholera and a malaria-like condition that Iraqis call 'black water fever.'"
Background:
Harper's: "Since August 1991 the United States has blocked most purchases of materials necessary for Iraq to generate electricity, as well as equipment for radio, telephone, and other communications. Often restrictions have hinged on the withholding of a single essential element, rendering many approved items useless. For example, Iraq was allowed to purchase a sewage-treatment plant but was blocked from buying the generator necessary to run it; this in a country that has been pouring 300,000 tons of raw sewage daily into its rivers."
ABS-CBN (Phillipines): "We Filipinos should no longer be surprised about the "liberation" tactics of the Americans and their so-called humanitarian aid in the present conflict in Iraq. We ourselves had a bitter taste of liberation, American-style, in the liberation of Manila at the end of World War II."
AP Asia: "Riding a wave of anti-American sentiment, outlawed Islamic extremist organizations that were forced underground by the U.S.-led war in Afghanistan in 2001 are making a comeback. Recruitment in Pakistan of potential terrorists appears to be on the rise. Militant leaders freed from house arrest have returned to the mosques to rally the faithful against the United States."
-->