March 31, 2003
Get a Hold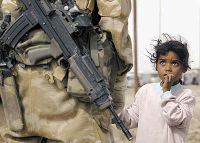 Times of London: "'Did you see all that?' he asked, his eyes filled with tears. 'Did you see that little baby girl? I carried her body and buried it as best I could but I had no time. It really gets to me to see children being killed like this, but we had no choice.' Martin's distress was in contrast to the bitter satisfaction of some of his fellow marines as they surveyed the scene. 'The Iraqis are sick people and we are the chemotherapy,' said Corporal Ryan Dupre. 'I am starting to hate this country. Wait till I get hold of a friggin' Iraqi. No, I won't get hold of one. I'll just kill him.'"
Seymour Hersh: "Several senior war planners complained to me in interviews that Secretary of Defense Donald Rumsfeld and his inner circle of civilian advisers, who had been chiefly responsible for persuading President Bush to lead the country into war, had insisted on micromanaging the war's operational details. Rumsfeld's team took over crucial aspects of the day-to-day logistical planning—traditionally, an area in which the uniformed military excels—and Rumsfeld repeatedly overruled the senior Pentagon planners on the Joint Staff, the operating arm of the Joint Chiefs of Staff."
Agence France-Presse: "Twenty people, including 11 children, were killed Saturday when a nighttime air raid hit a farm near Baghdad, relatives told AFP."
Australian Broadcasting Corp.: "Thousands of marines have been given a pamphlet called 'A Christian's Duty,' a mini prayer book which includes a tear-out section to be mailed to the White House pledging the soldier who sends it in has been praying for Bush."
CommonDreams.org: "The House of Representatives have recently voted on the 2004 budget which will cut funding for veteran's health care and benefit programs by nearly $25 billion over the next ten years. It narrowly passed by a vote of 215 to 212, and came just a day after Congress passed a resolution to 'Support Our Troops.'"
Ha'aretz: "Despite American warnings, in the last few days Damascus has expedited the passage of volunteers wishing to join the Iraqis in their war against the Americans. Thousands of volunteers, most of them Syrians, are thronging to the Mosul and Kirkuk regions in north Iraq."
Robert Fisk: "One half of the entire US/UK force — still called 'the coalition' by journalists who like to pretend it includes 35 armies rather than two and a bit (the 'bit' being the Australian Special Forces) — is now guarding and running the supply line through the desert."
Arab News: "There are over 40,000 Iraqi exiles already in Jordan, but since the start of the war it has become obvious that predictions of thousands more arriving as refugees were Iraqi gross miscalculations. What in fact appears to be happening is the opposite. Huge numbers of the Iraqi exiles who initially left Iraq because of political reasons have decided to return to participate and fight side by side with their Iraqi brothers."
-->