March 17, 2000
Art and Incrementality revisited.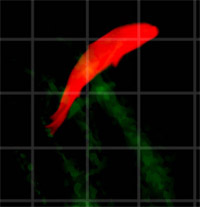 idea. One of the strengths of weblogs is that they are updated incrementally. Consider this in relation to a site like yahoo, which has (arguably) similar content to many specialized weblogs, the chief difference being that the presentation is incremental, yet non-linear, so any visitor can jump into the flow and have a reasonable chance of learning something by spending a few minutes a day at a site, starting at any point in time. Contrast this to a huge annotated link list, which amounts to a huge one-time flood of information, which it's hard to go through in one sitting, and even harder to remember (or want to) go back later. The 'newness' of newly updated weblogs only adds to this.
The point: the temporal, incremental process of reading a weblog is an explicit part of the interface, so the user doesn't have to have the discipline to sit down and sift, just the curiosity to go back to a site and get a few tidbits now and then. This relates to my idea of incrementalism, which I now realize applies to both the updating and reading of weblogs.
---
Good stuff about comics and eBooks on peterme, and I just noticed his interface design reading list. Fantabulous.
Weblogs that are new to me: blogit has some good links today, including this one which quotes Steve Ballmer as saying the internet is "backward". Swallowing Tacks has an entry about a cool musical concept. Infolets looks interesting.
Free BeOS is coming on the 28th. Apparently, over 100,000 people signed up to be notified. It'll be interesting to see how fast the BeOS spreads after it's freely available. Go Be! ... er, Gobe!
Monkeyfist digs Zydeco. I wonder if any Zydeco bands ever make it up to eastern Canada? I would seem likely, given the Acadian connection and all.
Another one from the archives: Bewitched. Ack. It works.
Oh yeah: Web Collage
I was looking for the earliest archived posts in some weblogs today, and the first two I looked through eatonweb and inessential both mention squirrels in the very first post. Cosmic!
Happy Saint Paddy's day! As usual, Google is dressed appropriately.
Pink Floyd: Green is the Colour
-->