March 04, 2003
February 12, 2003
#
Intertidal: Travels in a Moral No-Man's-Land
[The ongoing series of guest articles continues with this essay by Amanda Jernigan. Amanda is a writer living in Guelph, Ontario. She currently works for Porcupine's Quill, a fine imprint of the small, Canadian variety.]

Intertidal:
Travels in a Moral No-Man's-Land
by Amanda Jernigan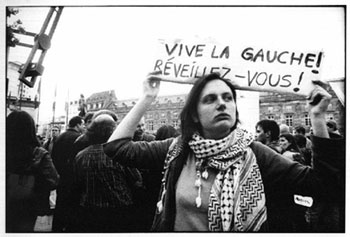 Photograph by Erin Brubacher
It has now been almost a year and a half since we woke up on a morning in mid-September to a phone call telling us to turn on the TV. Since then the world has gone galloping warwards, committing all sorts of injustices in deed and speech, and all this time I have been silent.
I've spoken, sure - I've griped about the news to friends and family, in desultory conversations had while chopping onions or driving to work. But as for serious expression - language polished by thought polished by language? Nothing.
Andrei Alezseyevich Amalrik says, 'If a person refuses the opportunity to judge the world around him and to express that judgment, he begins to destroy himself before the police destroy him ... ' I encountered this quotation not long after that September day, and the words have lingered in my mind as a reproof to me.
Why silent?
January 30, 2003
November 05, 2002