March 31, 2000
visual 'blogging
Dr. Bronner's soap labels are now available in pdf format. All one!
Michael Stutz over at dsl.org posted a great Ginsburg quote:
"Every American wants MORE MORE of the world and why not, you only live once. But the mistake made in America is persons accumulate more more dead matter, machinery, possessions and rugs and fact information at the expense of what really counts for more: feeling, good feeling, sex feeling, tenderness feeling, mutual feeling. You own twice as much rug if you're twice as aware of the rug."
Camille Paglia in Salon: The North American Intellectual Tradition. Nice and short; some interesting ideas about environment influencing thought. [via metascene]
Interesting use of images in a weblog format: mod7. I was telling a friend about weblogs the other day, and she said that one of the most exciting possibilities about the internet was the possibilities for visual communication. Being text oriented, it frankly hadn't occurred to me in any profound way. Lots of unexplored possibilities. [via kottke]
Home sweet home (the Olympic Mountains, Washington State.):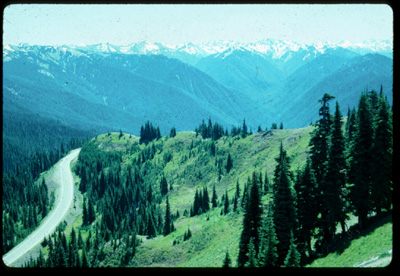 -->